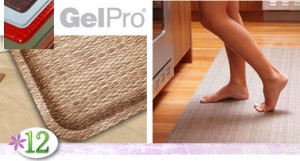 Have you enjoyed the giveaways today? Last but certainly not least is a wonderful Mother's Day Gift courtesy of GelPro. The GelPro Mat will make a great gift for the mom who is on her feet a lot.
Using patented anti-fatigue gel comfort technology, the GelPro mat reduces pain and increases blood flow, creating a more relaxing and enjoyable cooking experience. As comfortable as they are stylish, the GelPro mat comes in a variety of colors and styles to fit every kitchen décor and set kitchens apart. Moms who enjoy cooking and spending time in the kitchen entertaining family and friends will love the GelPro mat. It's the perfect gift because it brings comfort and style into the home, giving mom a luxurious item to enjoy year-round.
I've always wanted a GelPro Mat, but I debated on whether they were really worth the money. Well, the answer is a rounding YES!!! Oh my goodness, if I could cover all of the floors in my house with these I'd be in heaven. I put mine in front of the sink, and I actually don't mind doing the dishes (well, as much, LOL) because it gives me a chance to just stand on it barefoot — something I've been doing frequently since it showed up on my doorstep.
My husband thought I was losing it until I made him try it too. He totally agrees with me that it's simply Ah-Mazing!
Each prize will include the following:

20 x 36 GelPro Mat valued at $100+!
Entry is simple! You just need to answer the question below by leaving a comment on this site! You can even gain up to 2 bonus entries for doing each additional item listed (just make sure that you leave one entry for each one — up to a total of 3 comments.) As a reminder, comments left on Facebook, Twitter or other posts will not be included.
REQUIRED ENTRY:
BONUS ENTRIES:
1. Follow Deal Seeking Mom on a reader or via e-mail updates and leave a comment on this post.
2. Follow Deal Seeking Mom through Facebook or Twitter and leave a comment on this post.
This giveaway will remain open until 11:59 p.m. EST, Friday, April 29th. Any comments left after this cut-off will not be counted. The winner will be selected randomly and will be notified via email within 48 hours after the close of the contest.
This giveaway is part of the Grateful Giveaways Event being hosted by myself and 11 other bloggers. You can increase your chances of winning one of 12 prizes, by visiting each of them and entering the same way as you did here. You have plenty of time to get to all of them, since the contest will be open for five full days.
EACH of the 12 participating blogs has their own prizes to give away so make sure to enter on each blog for the best chances to win! Use this spreadsheet to keep track of your entries!
As one final reminder, you will want to check out the terms of the giveaway by visiting the Grateful Giveaways: Celebrating a Season of Giving Facebook page. Just click on the TERMS tab at the top of the page. (Note that by entering this contest, you agree that you have read the terms and are eligible to enter this contest).
Disclosure: I received the same gift package that the winner will be receiving to facilitate my review. I did not receive any compensation to write this post. The opinions are all mine!