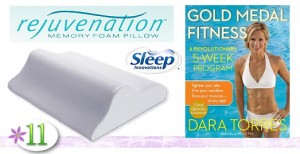 Only a couple more giveaways left, I hope you have enjoyed them! Up next in the Grateful Giveaways Mother's Day Event is one true to my heart…sleep! As busy Moms, sleep is often very precious, anything that helps with a good nights sleep is much appreciated.
The REJUVENATION pillow made by Sleep Innovations, is guaranteed to help a person sleep better. The company's sleep scientists have identified 18 degrees as the "Ideal Angle," or the most favorable sleeping angle for a person's head and neck. This Ideal Angle promotes improved airflow, provides the comfort you need to falls asleep faster and sleep more deeply and without interruption. In addition it helps to increase REM (Rapid Eye Movement) sleep, a restorative sleep that helps sleepers feel more energized when they wake.
As a twelve time Olympic medalist, mother, best-selling author, role model and motivational speaker, Dara Torres knows the importance of sleep and how it contributes to a person's overall health. Along with diet and exercise, sleep provides the restoration, rejuvenation and energy necessary for improved performance and everyday wellness. In her new book "Gold Metal Fitness: A Revolutionary 5-Week Program", she shares her passion for fitness, while teaching you how to be healthy.
I've wanted to try a memory foam pillow for quite some time, but it took me a few days to adjust to the REJUVENATION pillow. While I found it quite comfortable at night, I felt kind of awkward when I woke up in the morning. After a few days I realized that I was shifting from the optimum sleep position in the middle of the night, and once I came to that conclusion, I found I was able to maintain my positioning and started waking up feeling refreshed and ready to greet the day! Now if only it could give me abs like Dara Torres…
Which brings me to her Gold Metal Fitness book. I've only had a chance to read through the intro, but I found it very inspiring, and I'm anxious to read about her recommendations on stretching exercises and eating for optimum energy. She looks amazing for age 43, and surely she has some great advice to share!
One lucky reader will win a Sleep Innovations REJUVENATION pillow and an autographed copy of Dara Torres' book, "Gold Metal Fitness: A Revolutionary 5-Week Program"
Entry is simple! You just need to answer the question below by leaving a comment on this site! You can even gain up to 3 bonus entries for doing each additional item listed (just make sure that you leave one entry for each one — up to a total of 4 comments). As a reminder, comments left on Facebook, Twitter or other posts will not be included.
REQUIRED ENTRY:
Visit Sleep Innovations, come back HERE and leave a comment telling us which product you would like to try!
BONUS ENTRIES: Please leave a seperate comment for each entry.
1. Follow Deal Seeking Mom on a reader or via e-mail updates and leave a comment on this post.
2. Follow Deal Seeking Mom through Facebook or Twitter and leave a comment on this post.
Giveaway will remain open until 11:59 p.m. EST, Friday, April 29, 2011. Any comments left after this cut-off will not be counted. The winner will be selected randomly and will be notified via email within 48 hours after the close of the contest.
This giveaway is part of the Grateful Giveaways Event being hosted by myself and 11 other bloggers. You can increase your chances of winning this prize (as well as all of the others on this site), by visiting each of them and entering the same way as you did here. You have plenty of time to get to all of them, since the contest will be open for five full days.
EACH of the 12 participating blogs has their own prizes to give away so make sure to enter on each blog for the best chances to win! Use this spreadsheet to keep track of your entries!
As one final reminder, you will want to check out the terms of the giveaway by visiting the Grateful Giveaways: Celebrating a Season of Giving Facebook page. Just click on the TERMS tab at the top of the page. (Note that by entering this contest, you agree that you have read the terms and are eligible to enter this contest).
Disclosure: I received the same gift package that the winner will be receiving to facilitate my review. I did not receive any compensation to write this post. The opinions are all mine!