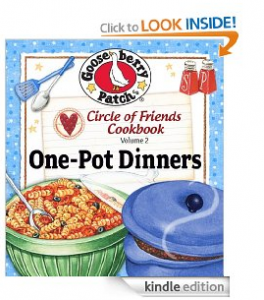 Amazon has a vast collection of e-Books for your Kindle
. Even if you don't have a Kindle, you can download a FREE app for your computer, BlackBerry, Android, iPhone or iPad.
Right now you can pick up Circle of Friends 25 One-Pot Dinners
for $0.99!
It doesn't get any easier than a one-pot meal, so Gooseberry Patch has gathered 25 of our best-tasting, tried & true recipes for those busy nights when time is short, tummies are rumbling and no one wants to do dishes!