Walmart's vendors have generously provided each of the Elevenmoms with one or more samples of each of the top 12 toys for Christmas!
Even with five kids, I've received far more than we can possibly use, so I'll allow the kids to select a few to keep, we'll donate a few, and I'll share some with my lucky readers via giveaways. I plan to review all 12 though and give you my opinion on whether it's worth the price or not.
And speaking of the prices, stay tuned to Deal Seeking Mom for breaking news on when rollbacks on the 12 toys occur!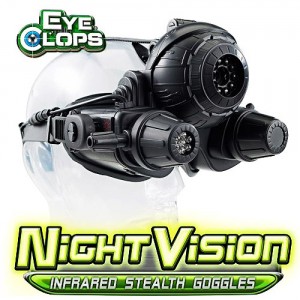 Today I'm participating in my first Bloggy Giveaway Quarterly Carnival, and up for grabs is one pair of EyeClops Night Vision Infrared Stealth Goggles. These are currently on rollback at Walmart.com for $68.88 with free site to store shipping!


So what is this crazy contraption? The EyeClops are real night vision goggles that fit little kids and big kids alike, and believe me, your big kid will want to try these out as well. My hubby broke these out as soon as the package arrived.
He was thrilled to find that these actually do work, and my boys had a blast playing hide and seek with them. But don't think that they're just for boys – my little 4-year-old princess insisted on giving the a go and proclaimed that they were, "Cool, Mom!"
Features:
Fits kids and adults
Real night vision technology
See up to 50 feet in completely darkness
Fully adjustable headband
Comfort padded
Safety breakaway power cord
Counter-weighted battery pack
At $68.88 these are definitely not cheap, but when you compare them to professional night vision goggles, you're getting a pretty good deal for the technology!
One lucky Deal Seeking Mom reader will win a pair of new in the box EyeClops Night Vision Infrared Stealth Goggles. Here's your chance to stretch your Christmas budget a little bit farther!
Every reader has three methods available to enter this contest. Choose one each of any combination of method one, two, or three, for up to a total of 3 entries!!!
1. Leave a comment sharing your thoughts on the EyeClops Night Vision Goggles! Make sure that I have some way to get in touch with you if you are the winner. (Either leave your email address in your comment or make sure I can access it from your profile.) Don't worry, I won't harvest your email addresses or use them for any purpose other than notifying you if you win.
2. Subscribe to my feed via RSS or email and leave a separate comment letting me know you have done so. If you're already a subscriber, simply leave a separate comment letting me know you're already subscribed. Lovin' my subscribers! You guys make this all possible.
3. Spread the word about this contest in some manner and come back and leave a link in a separate comment. If you have a blog, you can blog about it. But if you don't have a blog, you're not at a disadvantage. You could review and Stumble it. You could Twitter it. You could post about it in a forum. Use your imagination!
It is important that you leave a separate comment for each type of entry because each comment is equal to one entry. Sorry to harp on this, but it really is that important to tally and select the winner easily, so I thank you from the bottom of my heart!
Prize:
1 EyeClops Night Vision Infrared Stealth Goggles
This giveaway ends at 11:59 p.m. EDT on Sunday, November 2nd. I'll use Random.org to generate a number that corresponds with the winning comment number and post the winner on Monday, November 3rd. Good luck!
While you're in a contest entering mood, don't forget to check out the Giveaway Gathering for a variety of contests being hosted on Deal Seeking Mom readers' blogs, as well as the other giveaways on the Bloggy Giveaway Quarterly Carnival!!!