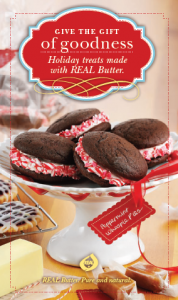 Request a Give the Gift of Goodness: Holiday treats made with real butter recipe brochure from the Wisconsin Milk Marketing Board!
You may also download the recipes online and print cute gift tags if you want to give baked goods as gifts. Limit 1 recipe brochure per household.
Do you bake with real butter? I know it's more expensive, but I think everything's better with real butter.
(Thanks, Chi-Town Cheapskate!)