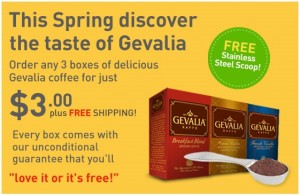 I know I've posted this offer in the past, but I like to repost it from time to time because it really is a fantastic deal. It's always nice to have some quality coffee or tea on hand for guests even if you're not into them yourself.
Gevalia has a hot offer where you can buy 3 half-pound boxes of their gourmet coffee (or tea, but I'm a coffee lover) for just $3, including shipping. That's just $1 per box!
Plus you'll get a FREE Gevalia stainless steel scoop with your order.
Note that you will be enrolled in their autoship program, but you are under no obligation to accept future shipments. Once your initial 3/$3 order has shipped, you may cancel the autoshipment program by calling 1-800-GEVALIA.