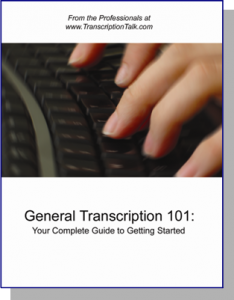 I've mentioned before that I managed to get my family through my husband's layoffs and economic downturns thanks to a career in general transcription. Transcription is a good option for those willing to invest the time and energy it takes to succeed at it. While it's not easy money, it can provide either a part-time or full-time income.
Inspired by our own success in transcription, my friends Mandi from Life…Your Way and Shaina from Food for My Family and I wrote an eBook together to help others looking to break into the field.
We will be pulling the ebook off the market on Saturday 6/25 since none of us are actively transcribing anymore, but before we do, we're offering a special discounted price of $14.99 for the General Transcription 101 ebook plus all four BONUS podcasts and transcripts, PLUS the financial earnings calls ebook (normally $49.99).
Click here to purchase your copy or read more about the package! The discount will be automatically applied when you add it to your cart.
Want to learn more on transcription before you purchase? Check out my previous posts regarding my own experience and go through these action steps to get started.