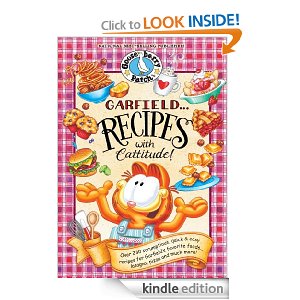 Amazon has a great sale on an e-Book for your Kindle
. Even if you don't have a Kindle, you can download a FREE app for your computer, BlackBerry, Android, iPhone or iPad.
Enjoy Garfield…Recipes with Cattitude for $1.99 (reg. $13.99).  Gooseberry Patch and Garfield the cat… it's a match made in food heaven!
The first new Garfield cookbook in ten years, Garfield…Recipes with Cattitude!
is packed with over 230 yummy recipes near and dear to Garfield's
tummy. Gooseberry Patch fans will love this fun new twist on the quick
& easy recipes they've come to expect. Garfield collectors will love
the strips and quips by Jim Davis, while the simple recipes will entice
even inexperienced cooks.