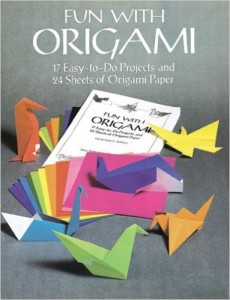 Today you can pick up Fun with Origami: 17 Easy-to-Do Projects and 24 Sheets of Origami Paper (Dover Origami Papercraft)
for $1.99!
This easy-to-follow introduction offers origami enthusiasts 17 different projects — all pre-tested and graded according to difficulty.
Simple instructions, over 100 clearly drawn diagrams, and a supply of authentic origami paper (24 sheets, each 7″ x 7″, in 12 different colors) help beginners master such simple shapes as a sail boat, jet plane, and a paper cup.
Thanks, Jungle Deals Blog!