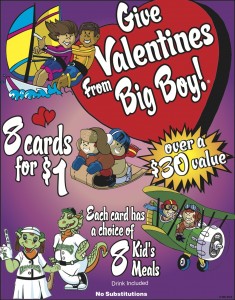 Frisch's Big Boy has Valentine's Day Coupons available! Stop by your local Frisch's and pick up eight coupons for FREE kid's meals, including a drink, for just $1. These are great for your own family or for Valentine's Day exchanges.
Kids can choose from 7 different kid's meals. If you've ever taken your kids to Big Boy, you'll know there's nothing mini about their kid's meals, and this is a great way to dine on a budget with kids! One coupon per child per visit, so these are especially great for large families such as ours.
Coupon books available through 2/14/13. Coupons can be redeemed between 2/15/13 and 3/26/13.