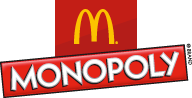 Freebie Friday is provided by Wendi, who blogs at TheFreebieBlogger, where she finds you 100% free items each and every day.
Caspar Babypants is offering a FREE song download of Take Me To The City Dump. Scroll down the page to find three additional FREE Mp3 downloads: Augie To Zebra, My Woodland Wish and Bunny Rabbit in the Sunlight. These songs would be great for those of you with young children.
Rewards Country is offering a FREE subscription to American Photo magazine. Each issue inspires and informs advanced amateur and professional photographers with blockbuster portfolios and step-by-step tutorials that showcase the art and swiftly changing technology of photography.
Dazzey.com is offering the first 2,000 people who sign up a FREE 20 ct. package of artist paint brushes. Shipping is also FREE. This offer is not available to anyone who have requested a freebie from Dazzey within the past seven days.
McDonald's restaurants throughout greater Phoenix and northern Arizona will host Family Health & Safety Day, on 9/29/12 at 9 a.m. This unprecedented child safety event that will give away 20,000 FREE bicycle helmets.
Bobbi Brown Cosmetics will be giving away FREE mini mascaras at select stores across the county. Click here for a list of stores, dates and times.
Walgreens is offering a voucher for FREE health tests (Blood Glucose, Body Composition and Blood Pressure) through 11/7/12. Those who get a test will receive a FREE AARP membership or membership renewal.
Support a friend in need with an inspirational HoneyGram message of strength to remind them they can conquer anything, and you'll get a coupon for a FREE trial-size sample of Honey, I'm Strong Shampoo or Conditioner.
McDonald's Monopoly Sweepstakes is here again! Enter for a chance to win thousands of prizes like cars, trips, cash, gift card and food. Get 5 chances to win with these FREE codes: GOPLAYATMCD, CODEFORMORE, MCDMONOPOLY, FREECODEMCR, and GOFORPRIZES. Enter codes at www.playatmcd.com.
L&M cigarettes is offering a FREE lighter cover to registered smokers. Just click here and sign into your account, the go the 'promotions' and click 'get a free lighter cover'.
Naughty or nice, your little one can get a card from the big man himself, fresh off the North Pole Press. 'Like' the Treat Facebook page and follow the instructions here to get your FREE card + FREE shipping.
Enter to win one of two $20 salon gift cards good at these locations: Best Cuts, BoRics, Cool Cuts 4 Kids, Famous Hair, Fiesta Salons, First Choice Haircutters, Head Start Salons, HairMasters, Holiday Hair, Island Haircutting Co., MasterCuts, Saturday's, SmartStyle, Style America, or TGF Hair Salon locations.
See the previous freebie roundups for more free sample offers that are still available!
As always, make sure you're protecting your personal information when you're signing up for freebies.
–––––––––––––––––––––––––––––––––––––––––––––––––––––
Every Friday I'll start a new post with a Mr. Linky for you all to share your fabulous freebie finds with Deal Seeking Mom readers! If you have a freebie you'd like to list, just leave your link below.
To keep it neat, I suggest that you list your blog name and then the freebie you've found in parentheses, ex. Deal Seeking Mom (Free Toilet Paper Sample). The only requirement is that you link directly to your post on the freebie. Links directly to your homepage will be deleted.