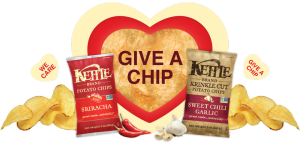 Freebie Friday is provided by Wendi, who blogs at TheFreebieBlogger, where she finds you 100% free items each and every day.
Send an e-Valentine to be entered to win a FREE limited edition Kettle Brand Chips gift pack. For every Valentine you send, they'll donate $1 to the Fresh Air Fund which shares the love year-round by providing summer experiences for underprivileged kids. Ends 2/21/14.
Visit Wrapp.com to claim a FREE $6 H&M eGift Card for yourself. This offer is good through 2/23/14. Wrapp is a social gift-giving service that lets you give FREE and paid gift cards to friends and family using your computer or smartphone.
The Google Play store is offering FREE downloads perfect for Valentine's Day. Artists include Drake, Marvin Gaye, Boyz II Men, Prince, James Blunt and more.
Text the word MOBILE to the number 23705 on your cell phone to receive a code good for $10 off your in-store purchase of $10 or more at Lane Bryant Stores. The coupon expires 2/23/14. Click here to find a location near you.
Black Angus Steakhouse is offering a printable coupon for a FREE dessert when you sign up for the BA Prime Club. You'll also get a FREE steak dinner on your birthday (with purchase of 2nd entree). Click here to find a location near you.
Use the emoticons here to tweet about your favorite moments from the Sochi 2014 Olympic Winter Games. My Coke Rewards members will earn 10 FREE Bonus MCR points when they make their first tweet. Limit one Bonus Point offer per person.
Sign up to receive a FREE subscription to Draft magazine courtesy of BJs Restaurants. DRAFT's beer, restaurant and bar reviews; travel stories; recipes; pairings and more are the preeminent guide to the world of beer.
Find the AXE Peace display at Walmart or any Axe product and take a picture featuring a peaceful pose. Post your photo to Instagram with the hashtag #walmartaxepeace for a chance to win one of 12,000 Walmart egift cards (1,000 will be selected randomly each day). Ends 2/19/14.
See the previous freebie roundups for more free sample offers that are still available!
As always, make sure you're protecting your personal information when you're signing up for freebies.
–––––––––––––––––––––––––––––––––––––––––––––––––––––
Every Friday I'll start a new post with a Mr. Linky for you all to share your fabulous freebie finds with Deal Seeking Mom readers! If you have a freebie you'd like to list, just leave your link below.
To keep it neat, I suggest that you list your blog name and then the freebie you've found in parentheses, ex. Deal Seeking Mom (Free Toilet Paper Sample). The only requirement is that you link directly to your post on the freebie. Links directly to your homepage will be deleted.