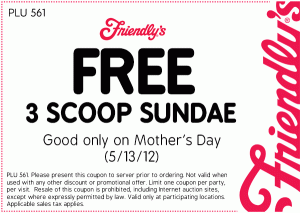 Freebie Friday is provided by Wendi, who blogs at TheFreebieBlogger, where she finds you 100% free items each and every day.
Print the coupon here to get a FREE 3 scoop sundae at Friendly's on 5/13/12. Limit one coupon per party. Click here to find a location near you.
Experian offers an Experian Credit Report for FREE in select states: Colorado, Georgia, Maine, Maryland, Massachusetts, New Jersey, and Vermont.
Sign up to receive a FREE one year (4 issue) subscription to Travel 50 & Beyond magazine. This magazine is designed for readers ages 50 or older. It features practical tips and vacation ideas geared toward finding the best values while traveling.
Golf Digest and Humana are offering a FREE pedometer. To sign up, click here and then click the purple 'enter here' button.
Sign up for the Premuim Outlets VIP Shopper Club and a voucher for a FREE coupon booklet, updates on sale and events, online coupons and more.
TCBY is giving away FREE frozen yogurt to Mom's this Mother's Day, May 13th. Participating locations only. Click here to find a location near you.
See the previous freebie roundups for more free sample offers that are still available!
As always, make sure you're protecting your personal information when you're signing up for freebies.
–––––––––––––––––––––––––––––––––––––––––––––––––––––
Every Friday I'll start a new post with a Mr. Linky for you all to share your fabulous freebie finds with Deal Seeking Mom readers! If you have a freebie you'd like to list, just leave your link below.
To keep it neat, I suggest that you list your blog name and then the freebie you've found in parentheses, ex. Deal Seeking Mom (Free Toilet Paper Sample). The only requirement is that you link directly to your post on the freebie. Links directly to your homepage will be deleted.