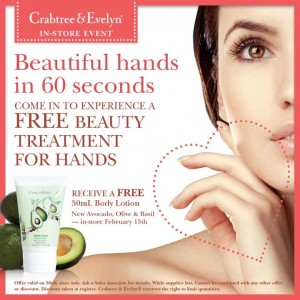 Freebie Friday is provided by Wendi, who blogs at TheFreebieBlogger, where she finds you 100% free items each and every day.
Crabtree & Evelyn stores are having a Beautiful Hands in 60 Seconds Event. Come in and try for FREE a Valentine's Day hand care ritual and also get a FREE 50 ml. sample of body lotion.
Get a FREE $1 Blockbuster Express DVD rental with the code LOVE2RENT (or use the code to get $1 off a $2 or $3 rental). Offer good through 1/27/12.
If America calls the Superbowl XLVI toss coin toss correctly, Papa John will give all Rewards Members a FREE Large One Topping Pizza and 2-liter of Pepsi Max.
Parents and educators play a vital role in teaching children fire safety and reducing the risk of child-set fires. This FREE printable activity book provides children ages 5-9 with valuable learning tools about fire safety and prevention.
TENA's personal care products provide fearless protection for the unexpected leak for people of all ages. They are currently offering a Tena Twist FREE sample.
Homeschool Creations is offering a FREE pack of printables for preschoolers based on the popular children's book The Mitten. Printables include vocabulary words, a tracer page, sequencing cards, beginning sound cards, counting activities and more.
Get a coupon via email around your birthday for a Jack in the Box FREE birthday dessert when you join their club. To receive this offer click "Connect With Jack" on the left hand side of the page.
See the previous freebie roundups for more free sample offers that are still available!
As always, make sure you're protecting your personal information when you're signing up for freebies.
–––––––––––––––––––––––––––––––––––––––––––––––––––––
Every Friday I'll start a new post with a Mr. Linky for you all to share your fabulous freebie finds with Deal Seeking Mom readers! If you have a freebie you'd like to list, just leave your link below.
To keep it neat, I suggest that you list your blog name and then the freebie you've found in parentheses, ex. Deal Seeking Mom (Free Toilet Paper Sample). The only requirement is that you link directly to your post on the freebie. Links directly to your homepage will be deleted.