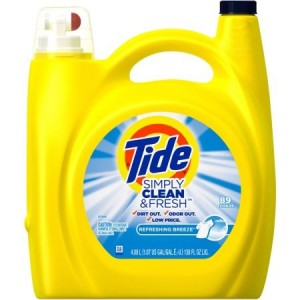 Get your FREE Tide Detergent today from Walmart and BeFrugal.com!  This is a quick and easy way to score some FREE Tide Detergent.
Here's how to get your FREE Tide Detergent from Walmart:
Login or Register with BeFrugal.com.
Tell us how you want to be paid. Select PayPal for automatic payment within 30 days.
Click "Activate Offer" and then complete your purchase at Walmart.com in the browser window that opens.
Make sure Tide Detergent is in your cart at checkout.
TIP: to avoid paying for shipping, select 'Free Shipping to Store' or add other items that bring your total above $50.
Within 30 days of your purchase, BeFrugal will automatically send you $8.97 to your chosen payment method.
It's that easy!