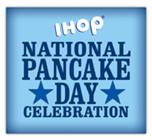 Mark your calendars now!  For the seventh consecutive year, IHOP restaurants nationwide will offer each guest a FREE short stack of its famous buttermilk pancakes on National Pancake Day (TUESDAY, February 28, 2012, 7 am – 10 pm) in an effort to raise awareness and funds for Children's Miracle Network Hospitals and other local charities.
Here are some National Pancake Day Fun Facts:
IHOP served four million FREE pancakes on National Pancake Day 2011 and pancake lovers donated more than $2.5 million to children's charities, exceeding the fundraising goal of $2.3 million.
All of the FREE pancakes served on National Pancake Day 2011 would create a stack nearly 16 miles high.
Since the inception of National Pancake Day in 2006, IHOP has raised nearly $8 million and given away more than 14 million pancakes to support charities in the communities in which it operates.
National Pancake Day 2011 was IHOP's largest one-day event in the company's 53-year history.