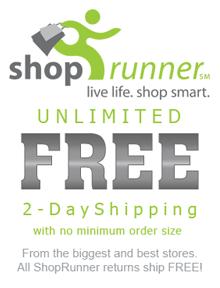 Share ShopSanity and get FREE 2-day shipping from ShopRunner (a $79 value!).  Sign up with your Yahoo or Gmail email account.  Here's how to get this great deal:
Register for your FREE ShopSanity account.
Share ShopSanity with your friends in your email address book, or
Share the ShopRunner credit with your Facebook friends!
ShopSanity will send you a link to start your ShopRunner membership.
Enjoy FREE 2-Day shipping from some of the biggest and best stores!