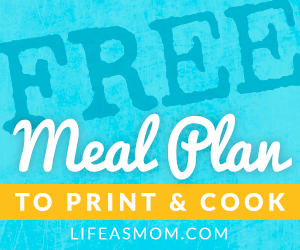 Here's a great tool to add some variety to your meal planning! Life As Mom has created a handy list of 17 (and counting) FREE printable meal plans with grocery lists. Here's a sampling of what you'll find:
Weekly Plan #10: (grilled chicken, caesar salad, basil chicken pizza, crockpot enchilada, pan bagnat)
Weekly Plan #11: The Kid Plan (tacos, chicken strips, burgers, brats, and pizza)
Weekly Plan #12: The Meatless Plan (sunbutter noodles, asparagus soup, pesto pasta, beans and rice, enchiladas)
Weekly Plan #13: The Staycation Plan (burrito bar, pasta salad bar, mini pizzas, soup and sandwiches, grilled fish)
Thanks, Life As Mom!