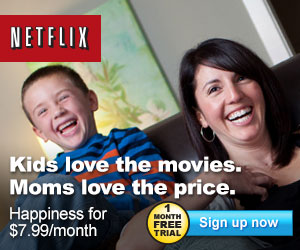 New to Netflix?  Enjoy a FREE one-month Netflix Trial!  With Netflix you can instantly watch unlimited TV episodes & movies over the Internet right on your TV, computer and various mobile devices.  Plus, some of the classic Disney movies, including "Dumbo," "Pocahontas" and even "Alice in Wonderland" and "The Tigger Movie" are available now to watch instantly.  Disney's direct-to-video releases, such as the coming "Cars" spinoff, "Planes," will show up on Netflix starting this year.
You can also watch thousands of tv shows or movies streamed from your Xbox, Playstation, computer and other streaming devices.  Use your Wii console, PS3 system, Xbox 360, network connected Blu-ray players, HDTVs and more to have the Netflix library at your fingertips. We stream directly to our TV, as well as to our iPad. They have a huge selection of family-friendly movies and TV shows available!
Watch as much as you want, as often as you want for only $7.99 a month. Start your FREE one-month Netflix trial today!
This 1 month free offer is available to new and certain former members of the Netflix service and cannot be combined with any other offer.