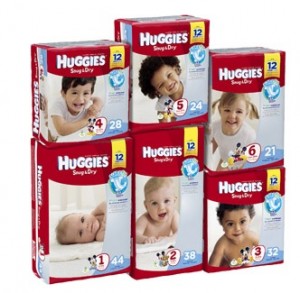 Right now new members to TopCashBack can score a FREE Jumbo Pack of Huggies Snug & Dry Diapers! Visit Walmart through TopCashback, purchase a Jumbo Pack of Huggies Snug & Dry Diapers – priced at $8.97. Choose in-store pick up to avoid shipping charges and you've got a FREE Jumbo Pack of Huggies Snug & Dry Diapers! There are six sizes to choose from: size 1 (up to 14lb); size 2 (12-18lb); size 3 (16-28lb); size 4 (22-37lb); size 5 (more than 27lb); and size 6 (more than 35lb). Even if you don't have a little one – this would be great for a baby shower or even to donate!
Here's how to score your FREE Huggies Diapers:
Register or login at TopCashBack
Once you've registered you can go directly to the Huggies Snug & Dry Diapers offer.
Click the orange "Get Cashback" button to open the Walmart shopping page.
Verify you're looking at the Jumbo Pack of Huggies Snug & Dry Diapers, priced at $8.97.
Click "add to cart" and then "view cart and checkout."
Proceed through checkout – be sure to choose FREE in-store pick up.
Your TopCashBack rebate of $9.90 will turn payable and can be credited straight to your checking or PayPal account within 60-90 days.
Be sure to share this deal with friends and family – TopCashBack doesn't limit accounts to one per household -so now's a great time to have your spouse, room mate or neighbor (or anyone else!) about TopCashBack.
Use your Tell-A-Friend Link when you share this deal with friends and family and you'll earn $10 for each new TopCashBack member who takes out this deal too!
Top CashBack is a loyalty program that offers cash back to you for your online purchases. Why not give it a try today?!
The fine print: This TopCashback Huggies offer is available until 23:59 PT on Tuesday, July 15, 2014 or stock runs out; while it's priced at $8.97 (if the price changes, the deal closes); to new TopCashback members only. This is defined as someone who hasn't ever made a transaction throughTopCashback.com, regardless of whether they have already created a TopCashback account or not. If an existing member is found to have created more than one account, TopCashback reserves the right to terminate their accounts and withhold all cashback earnings; to new, current or past WalMart customers; for online sales only, for purchases made directly after clicking through TopCashback.com. Only one Huggies product is allowed per TopCashback account, only one TopCashback account is permitted per member.