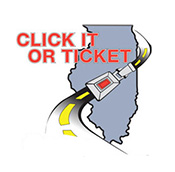 Request your
FREE Child Passenger Safety Sticker
today.  This child safety identification program was developed as a result of a traffic crash involving a 13-month-old boy named Chad. This program encourages CHAD stickers to be placed on your child's car seat and provides rapid identification in case of an emergency. Here's how to get yours:
Visit Buckle Up Illinois and click the "Child Passenger Safety" menu option.
The Chad Sticker Box will be one of a few options – just click 'add to cart" and then proceed to checkout to get your FREE sticker!
Thanks, The Freebie Blogger!