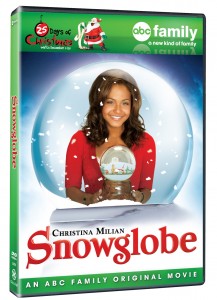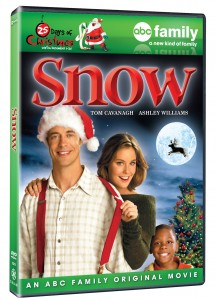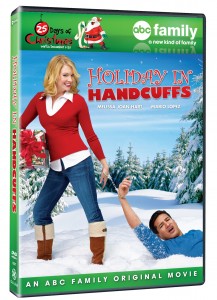 Deal Seeking Mom and ABC Home Video are partnering to give five of my wonderful readers a prize package consisting of three family holiday DVDs. Throw in a little hot cocoa and homemade Christmas cookies and you'll have the makings of a fun family movie night!
Included in the prize package are:
Snowglobe – a charming Christmas tale starring Tom Cavanagh and Ashley Williams that will delight the entire family with a sleigh-full of reindeer antics! When Nick Claus' baby reindeer is stolen, he travels to California's renowned San Diego Zoo to rescue it – only to find true love in the process!
Snow – Christina Milian takes center stage in Snowglobe and "shakes things up" in this delightful seasonal tale. The holiday magic comes alive when Angela, played by Christina Milian, inherits her grandmother's antique snow globe and finds she is able to leave her dreary, ordinary existence and travel to the idyllic Christmas-y world inside the wondrous globe!
Holiday in Handcuffs – an original movie about a ne'er-do-well 30-something who attempts to appease her family by kidnapping an attractive boyfriend to bring home for Christmas!  Despite the unlikely odds, the two share a "merry" special holiday…and manage to fall in love!
If you'd like to win this fun holiday movie pack, just leave a comment telling me what your all-time favorite Christmas cookie is! I know – that's a tough one, isn't it?
Methods of entry:
1. Leave a comment – Share with us what your favorite all-time favorite Christmas cookie is.
2. Share your favorite cookie recipe – Of course we're going to want to know how we can make all these fabulous cookies for ourselves, so either leave the recipe in a separate comment or blog the recipe and come back and leave the link in a separate comment.
Prize:
(5) ABC Home Holiday DVD 3-pks.
This giveaway ends at 11:59 p.m. EDT on Saturday, December 13th.  I'll use Random.org to select the winning comment.  The winner will be posted on Sunday, December 14th. Good luck!
While you're in a contest entering mood, don't forget to check out the Giveaway Gathering for a variety of contests being hosted on Deal Seeking Mom readers' blogs!