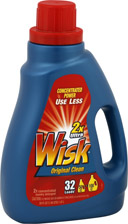 Is your laundry detergent stockpile low? Now is a great time to build it up if you have several of the $3/1 Wisk coupons on hand. Family Dollar has Wisk Laundry Detergent priced at $4.
Wisk Laundry Detergent, $4
$3/1 WISK Laundry Detergent, exp. 9-26-10 (RP 08/29/10)
$1 after coupon!
Need more coupons? Purchase additional coupons from eBay
or check out these coupon clipping services to build your stockpile.
Thanks, Lady Savings!