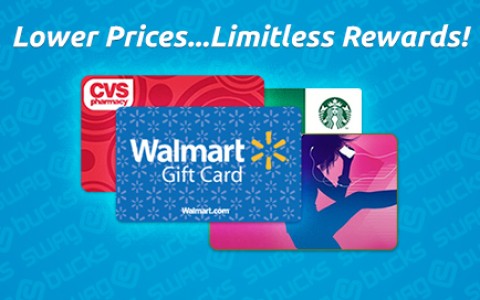 Swagbucks has BIG news for the Rewards Store. If you're already familiar with Swagbucks, you know the Reward Store is where you turn those Swag Bucks into awesome gift cards. They just announced exciting news to make it even better:
Some additional benefits include:
1. Greater Savings — If you previously redeemed five $5 Amazon Gift Cards, you were spending 2250 SB. Now you can get the same $25 worth of Amazon Gift Cards for 2200 SB, a 20% higher discount!
2. More Choices — Right now, the only gift card we currently discount is Amazon. This introduction offers you a discount on over 100 gift card choices of your favorite brands, stores, retailers, and restaurants – brands like CVS, Walmart, Visa, Target, Starbucks, Ebay, Best Buy and more!
3. Faster Redemptions — The $3 Amazon Gift Card allows you to get an Amazon Gift Card 33% faster than is currently possible. To expand the options for speedier gift card redemptions, we also plan on offering more low denomination Gift Cards of other brands in the coming months.
Not a member yet? Swagbucks is a simple way to turn your fun online time (and even the not so fun, like using a search engine!) into gift cards! Sign up for free here, and start redeeming Swag Codes now!