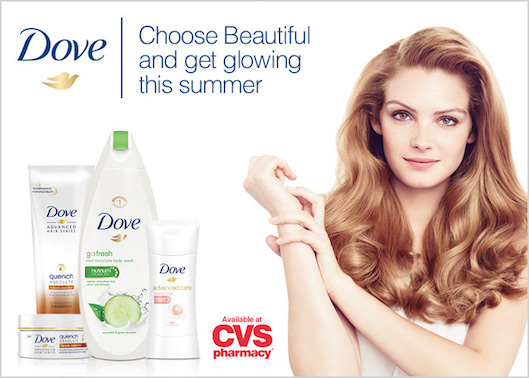 Summer is drawing to an end, and if you've spent a lot of time outside, you may notice that your skin and hair feel a little parched. No problem — Dove to the rescue! Their line of hair and skincare products will leave with beautiful, glowing skin and flawless, head turning hair (and you'll smell amazing, too!):
Dove Go Fresh Body Wash:
– Provides softer, smoother hair after just one shower
– Combines mild cleansers with NutriumMoisture technology to provide both freshness and care
Dove Go Fresh Beauty Bar:
– The light cleansing formula of the Dove go fresh Cool Moisture Beauty Bar calms and hydrates skin
– Uplift your senses with the cool, refreshing scent of cucumber and green tea
Dove Quench Absolute Shampoo, Conditioner & Restoration Mask:
– Dove's most nourishing range yet. Infused with Buriti Oil and Omega 9, it deeply nourishes for 4X more defined*, natural curls from the inside out. Embrace the natural beauty of your curly hair and get more nourished, defined, and bouncy curls with every wash.
Dove Advanced Care Deodorant:
– 48-hr protection + softer, smoother underarms.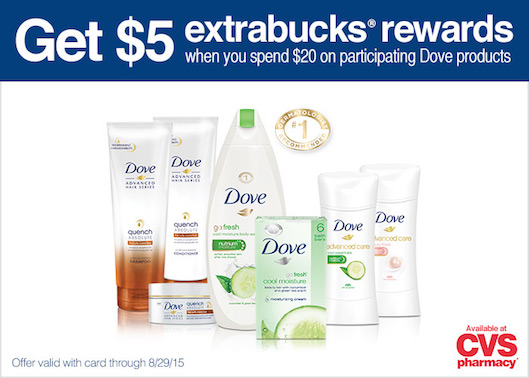 Plus, with this great deal on Dove products at CVS right now, stocking up on your favorites won't empty your wallet! Through 8/29/15, get $5 extrabucks® rewards when you spend $20 on participating Dove products.
And even better, there's a sale you can stack with this offer through 8/23: Dove Hair and Advanced Care Deodorant are just 2 for $10, and Dove Personal Wash is 2 for $15 with your CVS rewards card!
Here are a couple of deal scenarios to get you started:
Dove Advanced Hair Series Oxygen Moisture Shampoo (12-oz.), 2/$10
Get $5 ECBs wyb $20
Use (2) $3/2 Dove Hair Products, exp. 8/23/15 (RP 07/26/15) [Excludes trial and M+C; Limit 2]
$2.25 each wyb 4 after coupons and ECBs!
Dove Personal Wash (22-oz.), 2/$15
Get $5 ECBs wyb $20
Use (3) $1/1 Dove Body Wash, exp. 8/22/15 (RP 07/26/15) [22-oz.+; Excludes trial and M+C; Limit 2]
$4.83 each wyb 3 after coupons and ECBs!
Now, before you dash off to CVS, I urge you to take a quick minute to watch this powerful video. I first saw it on Facebook about a month ago, and I couldn't stop thinking about it afterward, wondering if I'd choose the door I'd like to think I would and which door my daughters would choose… Which door would you choose?
Disclosure: Sponsored by Lunchbox, all opinions are my own.