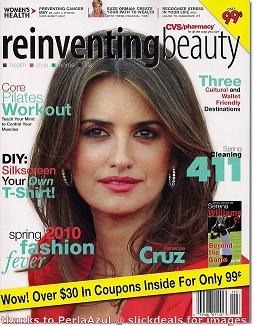 The latest issue of Reinventing Beauty is on the racks at CVS and is filled with $30 in money-saving manufacturer and CVS store coupons.
:: CVS Store Coupons
$2/2 Blade Personal Care Products
$1/1 CVS Depilatories
$2/1 Lumene Excellent Future Product
$2/1 Bioluxe Hair Care Product
$1/1 Essence of Beauty Bath, Body or Cosmetic Accessory priced at $4+
$5/$20 Skin Effects Purchase$2/1 Fruitopia Hair Care Purchase
$2/1 Essence of Beauty Eau de Toilette
Coupons expire 6-30-10.
:: Manufacturer Coupons
$1/1 Dove Chocolates (8.4 oz.+), exp. 9-1-10
$1/1 All Free Clear Laundry Detergent (50 oz.+), exp. 8-31-10
$3/1 Veet Product, exp. 9-30-10
$1/1 Hawaiian Tropic Sun Care Product (3 oz.+), exp. 6-30-10
$1/1 Softsoap Body Wash (15-18 oz.), exp. 6-30-10
$1/1 Irish Spring Body Wash (15-18 oz.), exp. 6-30-10
$1/1 Softsoap Ensembles Starter Pump or Refill, exp. 6-30-10
Pick yours up for just $0.99, or look for the standalone inserts on your next trip. I often find them on the rack with the newspapers at my local store.