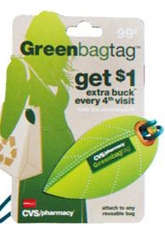 Many people are reporting receiving a FREE Green Bag Tag coupon when they scan their cards at the "magic coupon machine" this week. These are normally priced at $0.99 each, and each time you shop with your reusable bag, you'll receive $0.25 ECBs, so this is a really great moneymaker.
If you don't get the coupon the first time you scan, keep scanning until the machine says no more coupons!
Thanks, My Frugal Adventures!