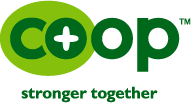 Thanks to Carrie at Pocket Your Dollars for compiling a list of the best deals to be found at Co+Op Deals locations this week.
New to couponing? Read up on what all of these abbreviations mean first in my quick reference guide.
Muir Glen Organic Tomatoes (14.5 oz.), $1.50
$1/1 Muir Glen Product printable
$0.50 ea. after coupon!
Nasoya Tofu, $1.99
$1/1 Nasoya Tofu printable
$0.75/1 Nasoya Tofu Product printable
As low as $0.99 ea. after coupon!
Cascadian Farm Organic Fruit Spread (10 oz.), $2.39
$1/1 Cascadian Farm Product printable
$1.39 ea. after coupon!
Rudi's Organic Bread, $3
$1/1 Rudi's Gluten Free Bread printable
$1/1 Rudi's Organic Bread printable
$2 ea. after coupon!
Castor & Pollux Adult Dog Food (5.25/lb.), $10.99
$5/1 Castor & Pollux Organix Pet Food printable
$5.99 ea. after coupon!
Check out Pocket Your Dollars for more deals!