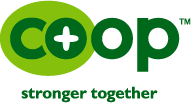 Thanks to Carrie at Pocket Your Dollars for compiling a list of the best deals to be found at Co+op Deals locations this week.
New to couponing? Read up on what all of these abbreviations mean first in my quick reference guide.
Woodstock Organic Tofu- $1.79
$1/1 Woodstock Foods Product printable
$0.79 ea. after coupon!
Oikos Organic Greek Yogurt (5.3 oz.)- $1.33
$1/1 Oikos Organic Yogurt printable
$0.50/2 Stonyfield Oikos Organic Greek Yogurt printable
As low as $0.83 ea. wyb 2 after coupon!
Pacific Natural Foods Soup- $2.00
$1/1 Pacific Naturals Hearty or Condensed Soups printable
$1.00 ea. after coupon!
Kettle Tias! Tortilla Chips- $2.50
$1/1 Kettle Brand Chips, exp. 3/11/12 (RP 01/29/12 #2)
$1.50 ea. after coupon!
Arrowhead Mills Pancake Mix- $2.99
$1/1 Arrowhead Mills Product, (Eating Well, Dec. '11)
$1.99 ea. after coupon!
Check out Pocket Your Dollars for more deals!