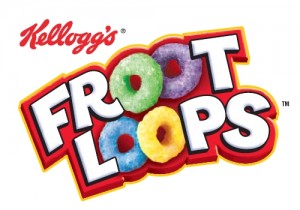 There have been several consumer recalls over the past couple of days that may affect Deal Seeking Mom readers, so be sure to check your stockpile this weekend. Please refer to the links included in each section for more details about the specific recalls:
Kellogg's Corn Pops, Honey Smacks, Froot Loops and Apple Jacks Cereals
Kellogg's has recalled select packages of Corn Pops, Honey Smacks, Froot Loops and Apple Jacks cereals because of a strange smell coming from the liner and package. The recall includes products with  Better If Used Before Dates between March 22, 2011 and June 26, 2011 with the letters "KN" following the date. For replacement packages, call the Kellogg Consumer Response Center at 888-801-4163.
Scope Original Mint Mouthwash
Scope® Original Mint Mouthwash (1 L) bottles are being recalled because they contain ethyl alcohol (which is toxic and can cause serious injury or death if ingested by children) but are not fitted with child-resistant caps. Affected bottles have a number 4 on the bottom of the bottle, and their tops twist off easily without squeezing the side tabs. Consumers who purchased the product with the expectation that it would be in child-resistant packaging can contact Procter & Gamble for a full refund or a replacement coupon at 877- 340-8825.
Krisp-Pak, Lancaster Fresh, Giant, and America's Choice Fresh Spinach
Fresh spinach sold under the brands Krisp-Pak, Lancaster Fresh, Giant and America's Choice in New Jersey, Delaware, Pennsylvania, Maryland, North Carolina, and Virginia and with Best Enjoyed By dates of 19 June 10 through 27 Jun 10 are being recalled because they could be contaminated with Listeria monocytogenes. If you have an affected package, you trhow away the spinach but save the package, and contact Lancaster Foods  at 800-247-8125.
Baby Cribs from Multiple Manufacturers to Repair Cribs to Address Entrapment, Suffocation and Fall Hazards
A variety of fixed-side and drop-side cribs from seven different manufacturers are being recalled to repair entrapment, suffocation and fall hazards. Refer to the links below for more information about the models being recalled and the remedies being offered. It is recommended that you find an alternate safe sleeping environment for your baby while waiting for a repair kit for your crib.