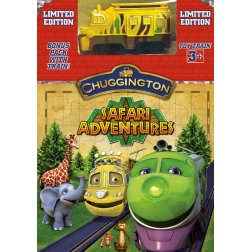 Here's a great deal available at Walmart this week!  Grab two new printable coupons to add to your little one's movie collection for less.  (Search the 'home entertainment' category to find these coupons quickly.)  You can pick up Chuggington Safari Adventures on DVD, which includes a FREE magazine subscription offer, for $6.96.  You can choose a Family Fun, Parents, Lady's Home Journal, Fitness or Better Homes and Gardens magazine subscription for FREE with your purchase of specially marked Chuggington DVDs. Or get Wubbzy's Egg-Cellenet Easter on DVD for $2!  Here's how:
Chuggington Safari Adventures DVD, $9.96
Get a FREE Magazine Subscription (Special Offer on product)
$3/1 Chuggington DVD printable coupon
$6.96 after coupon!
Wubbzy's Egg-Cellent Easter DVD, $5
$3/1 Wubbzy's Egg-Cellent Easter or Wubbzy Spring 2-Pack DVD printable coupon
$2 after coupon!
Check out more great Walmart deals before you go.
Thanks, The Wally World Woman!