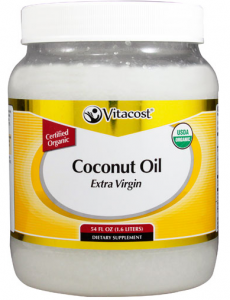 Here's a great deal from Vitacost right now.  New members to Vitacost will get a FREE $10 off your $30 purchase coupon! Combine this new member discount with a great sale going on right now and you've got a great deal:
Vitacost Certified Organic Coconut Oil (54 oz.), $16.99 ea.
$10 off your $30 purchase Vitacost coupon
$23.98 wyb 2 ($11.99 each) after credit!
Choose the cheapest shipping option ($4.99) and you've got two nice big jars of Coconut Oil for $14.49 each with shipping included! 
Already a member of Vitacost?  You can't use the special new member coupon, but you'll enjoy FREE shipping when you buy $25 or more in Vitacost items.  This brings your total to $33.98 for both tubs — or about $0.31 per ounce!
(Thanks, Money Saving Mom!)