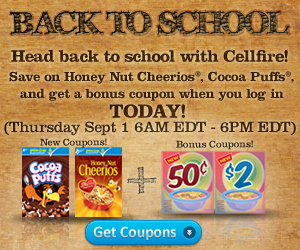 Cellfire is running a special promotion today for Kroger, Kroger subsidiaries, and Safeway subsidiaries. Log in to Cellfire between 6 a.m. and 9 p.m. ET today (9/1) to win. You'll find a bonus $0.55 off or $2 off coupon in with your regular coupons that you can load directly to your card!
The bonus coupons will expire on 9/5.
You'll also find new $0.50/1 Honey Nut Cheerios and $0.75/1 Cocoa Puffs coupons, plus more!