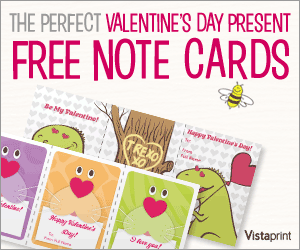 Vistaprint has a fun Valentines Day offer valid today only: Get 10 FREE note cards!  You can personalize and cut these into 3's to make 30 FREE personalized kid's Valentines! You can add a personal message and even a photo and create a unique valentine for your child to hand out in class.
Order now and enjoy a stress free Valentine's Day this year!  The note cards are FREE – just pay shipping and processing (starts at $4.50).
Here's how to order your 10 FREE note cards:
Check out, making sure to opt out of any offers you're not interested in.
You'll only pay about $4.50 for shipping and handling when you select the "Slow" shipping.
Enjoy sharing these FREE cards with friends and family!