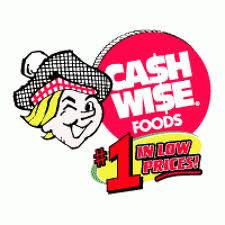 Thanks to Carrie at Pocket Your Dollars for compiling a list of the best deals to be found at Cash Wise this week.
New to couponing? Read up on what all of these abbreviations mean first in my quick reference guide.
Campbell's Tomato or Chicken Noodle- $0.60
$1/5 Campbell's Condensed Soups printable
$0.40/3 Campbell's Condensed Soups printable
$0.40/4 Campbell's Condensed Chicken Noodle, Tomato or Cream of Mushroom Soup, exp. 10/31/13 (SS 09/08/13)
As low as $0.40 ea. wyb 5 after coupon!
Duncan Hines Angel Food Cake Mix- $0.98
$0.35/1 Duncan Hines Product printable
$0.63 ea. after coupon!
Dole Fruit Bowls or Squish'ems (4 ct.)- $2.00
$1/1 Dole Fruit Squish'ems printable
$1/2 Dole Fruit Bowls Fruit in 100% Juice or Dole Fruit Squish'ems! printable
$0.75/4 Dole Fruit Bowls, Gels, Parfaits, Crisps or Squish'Ems (Future Savings) printable
$1/1 Dole Fruit Squishems, exp. 10/5/13 (SS 08/11/13 R)
As low as $0.81 ea. wyb 4 after coupons and future savings!
Langers Apple Juice or Apple Juice Blends- 2/$2.88 with in-ad coupon
Must Buy 2; Limit 2
$1.44 ea. wyb 2 after coupon!
Xtra Detergent (75 oz.)- $1.88
Check out Pocket Your Dollars for more deals!