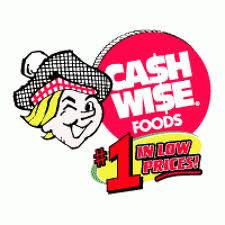 Thanks to Carrie at Pocket Your Dollars for compiling a list of the best deals to be found at Cash Wise this week.
New to couponing? Read up on what all of these abbreviations mean first in my quick reference guide.
Jell-O Boxed Gelatin or Pudding Mix- $0.72
$1/3 Jell-O Gelatin or Pudding Mix printable
$0.39 ea. wyb 3 after coupon!
Early California Olives- $1.44
$1/1 Early California Black Ripe Fresh Cured or Specialty Olives printable
$0.44 ea. after coupon!
Oscar Mayer Meat Wieners- $1.11
Must Buy 2; Limit 2
$1/2 Oscar Mayer Hot Dogs printable
$0.61 ea. wyb 2 after coupon!
Finish Gelpacs- $3.48
$2.15/1 Finish Powerball, Gelpacs or Quantum, exp. 7/14/13 (SS 06/16/13)
$1.33 ea. after coupon!
Kraft Mayo or Miracle Whip (30 oz.)- $2.66 with in-ad coupon
$1/1 Kraft Mayo or Miracle Whip Dressing printable
$1.66 ea. after stacked coupons!
Check out Pocket Your Dollars for more deals!