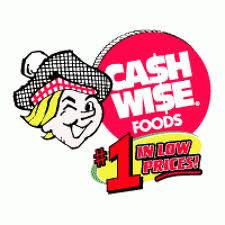 Thanks to Carrie at Pocket Your Dollars for compiling a list of the best deals to be found at Cash Wise this week.
New to couponing? Read up on what all of these abbreviations mean first in my quick reference guide.
Fresh Express Garden Salad, Coleslaw or Shreds- $0.98
$0.55/1 Fresh Express Packaged Salad, exp. 6/10/13 (SS 03/10/13)
$0.43 ea. after coupon!
Mennen or Lady Speed Stick (1.4-2 oz.)- $1.00
B1G1 Speed Stick Men's or Lady Antiperspirant or Deodorant, exp. 5/18/13 (SS 04/28/13)
$0.50 ea. wyb 2 after coupon!
Food Club Canned Vegetables- $0.50
Hunt's Snack Pack Pudding (4 pk.)- 5/$4 with in-ad coupon
Must Buy 5
$0.50/4 Snack Pack Pudding, exp. 5/19/13 (SS 04/07/13 R)
$0.70 ea. wyb 5 after stacked coupons!
Lipton Pure Leaf Tea (18.5 oz.)- 4/$2.88 with in-ad coupon
Must Buy 4
Blue Bonnet Margarine (1 lb.)- $0.80
Pepsi Next (2 ltr.) 2/$1.88 with in-ad coupon
Must Buy 2
Starbucks Refreshers or Iced Coffee- 2/$1.88 with in-ad coupon
Must Buy 2
Check out Pocket Your Dollars for more deals!