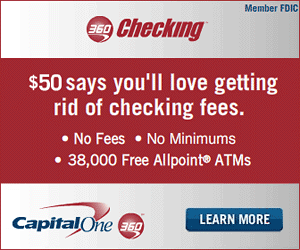 Here's a fun way to start your vacation or Christmas savings fund! You can earn a $50 sign-up bonus from Capital One 360 Checking! You'll enjoy the peace of mind that comes from banking with no fees and no minimums, PLUS you'll earn a $50 bonus!  Here's how:
Open your 360 Checking and make a total of 3 Card purchases or Person2Person Payments (or any combo of the two) within 45 days of account opening.
Your $50 bonus will automatically be deposited into your account on day 50.