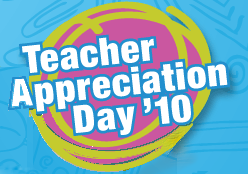 If you're a teacher or homeschool parent, be sure to mark your calendar for the following Teacher Appreciation Days so that you can stock up on the supplies you need for less. Be sure to visit each site to verify the dates for your local store as well as the identification you'll need to have in order to take advantage of the deals!
On Saturday, August 14th, 2010, get 10% off.
On August 14 & 15, 2010, get 20% off all purchases plus a free tote bag (while supplies last).
Every Friday through September 24, 2010, take an additional 10% off your purchase, including sale items.
Save 10% on all in-store purchases and receive 50% in-store rewards when you buy selected brands along with teacher breakfasts and fun door prizes. Dates vary by region.
During the month of August, Staples will be holding teacher appreciation days with a free gift for the first 100 teachers, product previews and more.
Get a FREE reusable bag and 20% off everything you can fit in it on August 15th!
Enjoy FREE snacks from the cafe, raffles, FREE gifts and a tour of the new Barnes & Noble @ School section. Dates vary by region.