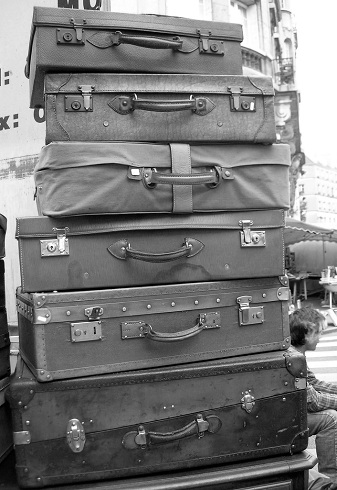 Mandi of OrganizingYourWay.net guest blogs today.
With one week until BlissDom '09, there's a big question on a lot of attendees' minds . . ."What should I pack?"
Tara and I have been brainstorming and asking around to put together a complete list for you for BlissDom – or any other blogging conference for that matter – ready to be printed and checked off!
:: Technology and Business Essentials
[ ] Business cards. Business cards are a necessity at a blogging conference, where the emphasis is really on networking. You can purchase Avery printer-ready business card sheets or create a file and send it to your local copy shop. Our favorite resource is VistaPrint – and they even have free cards – but you'll have to use 3-day delivery to make sure you get them in time!
[ ] Laptop. If you have one, bring it. Live blogging, tweeting, taking notes…this is a blogging conference after all!
[ ] Camera. I don't know about you, but I want pictures to prove that I met the rockstars of blogging!
[ ] Cell phone. For traveling and touching base with your family that you've left behind you miss so much.
[ ] Cords! Don't forget your chargers and USB cords for all of your technology!
[ ] Batteries. Extra batteries for your camera! You wouldn't want your camera to die just as you were about to get a picture with Mrs. Fussypants herself, would you?
[ ] A notebook and pen. There may be times when your laptop isn't handy or appropriate that you'll want to jot down information or write a note for someone you're chatting with, so bring a pen and notebook that fit in your purse or are easy to carry around.
:: Clothing
Jenny, the Blissfully Domestic Style Editor posted a great article earlier this week about what to wear for BlissDom '09. The general recommendation is dressy jeans and a nice top works for the daytime sessions, and you may want to jazz it up a little more for the evening cocktail parties. And don't forget PJs for Friday night's pajama party!
[ ] 2-3 daytime outfits, depending on the length of your stay
[ ] 1-2 dressy shirts and/or dresses for the evening cocktail parties
[ ] Appropriate pajamas for both nights
[ ] Undergarments, bras, underwear, tights/leggings, etc.
[ ] Comfortable shoes for travel
[ ] Dressy heels or flats for the conference and cocktail party
:: Toiletries
[ ] Medicines. Prescriptions, Tylenol, and anything else you think you may need!
[ ] Shower stuff. Shampoo, conditioner, mousse, gel, soap, whatever you use. Don'tforget to refer to the airline size restrictions if you're packing them in your carryon.
[ ] Makeup. If you wear it, I'm betting you don't want to forget it!
:: Miscellaneous
[ ] Cash, for tips, extra meals, etc.
[ ] Snacks. Breakfast and lunch are included on Saturday, and hors d'oeuvres both Friday and Saturday, but you'll want snacks for in between as well.
[ ] Candy, gum, etc.. No explanation needed?
[ ] Business card holder. Not only for your own business cards, but for those you'll collect as well.
[ ] Pump. If you're a nursing mother and not bringing your nursling, be sure to bring all the necessary parts so that you can pump as needed! For those of you who are bringing your nurslings, you're obviously going to need more than I've listed here!
What else are you bringing that's not on the list?
Photo by malias
Mandi Ehman runs Organizing Your Way, a blog dedicated to helping you get – and stay – organized. Be sure to subscribe now so you don't miss Blogging Week (February 8th – 14th), as she shares tips and tricks for organizing and making the most of your blogging time.