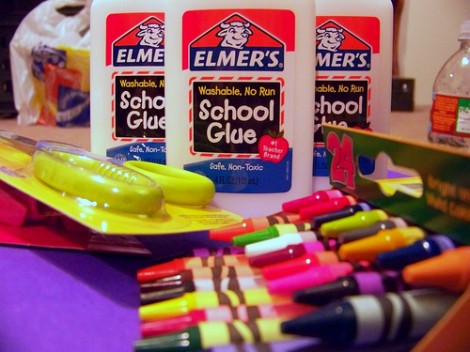 Photo by Brandi Korte
The back-to-school sales are in full swing, and cheap school supplies are abundant at grocery stores, drugstores and super stores. From $0.25 packs of crayons and glue sticks to free backpacks and pencils, this really is the time to stock up.
As you're stocking up for your own family, though, consider buying a few extras here and there to donate to other people who may not be as fortunate as you. With even $5 a week, you could make a huge difference if you're shopping the sales!
Here are five opportunities to help. Be sure to share other causes you know of in the comments as well!
1. Operation Christmas Child
Every year, Operation Christmas Child delivers more than 8 million shoe boxes to children in third-world countries who may not have all of the basic necessities, let alone luxuries like crayons, balls and toys. Now is a great time to begin stocking up on school and art supplies to pack your own boxes. And as Karen recently pointed out in an email, it's a great time to stock up on shoe boxes for your gifts as you do back-to-school shoe shopping as well.
2. Operation Backpack
In the United States, Operation Backpack projects are springing up around the country as schools and organizations collect backpacks full of school supplies to donate to needy families. To find an organization local to you, search "Operation Backpack" with a city name. For example, Operation Backpack Columbus, Ohio. Start with your local area and then search the larger metropolitan areas if needed.
3. Adopt a Classroom
If you're looking to have a larger impact, consider adopting a classroom in a low-income area and donating the items that each class specifically needs. For more information, check out DonorsChoose.org or AdoptAClassroom.org.
4. Donate to a Local Church or School
If you have a relationship with your local school or church, be sure to check with them directly to see which supplies they could use. From public elementary schools to private preschools to homeschool coops, chances are that they could all use some extra supplies!
5. Donate Internationally
You can also donate directly to smaller international organizations that may have supplies sent over with visitors (such as adoptive parents traveling to an orphanage to get their child or volunteers working with missions). If you support an organization directly or through your church or know someone who is in the process of adopting, be sure to ask if they can use school supplies and see about packing an extra bag for the trip!
Do you stock up on extras in order to be able to donate them? What else do you do with your extra school supplies?