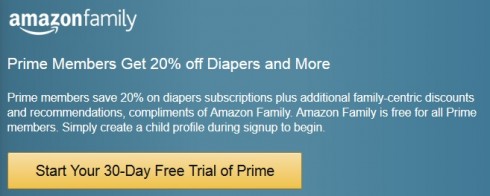 Great news for Amazon Prime members! Amazon has announced Amazon Family diaper discounts are now available on voice shopping with Alexa enabled devices like Echo, Echo Dot, Amazon Tap and Fire TV.
Now, new parents who are Amazon Prime members and use the Alexa voice assistant can ask Alexa to order diapers at a 20% discount whenever they are running low. It's as simple as saying – "Alexa, I need size 3 diapers." Ordering again?  No problem, Alexa will know and automatically order the same diapers. Just say "Alexa, buy diapers" and she'll take care of the rest, discount and all!
Whether you're looking to play a lullaby for your little one or a simple day-to-day task like setting up a timer for your next feeding, Alexa makes life easier for busy parents.  The addition of diaper ordering via Alexa is another way to help make parenthood a little less chaotic – saving time and money.
To learn more visit Amazon or try ordering diapers today by asking Alexa on your Echo, Echo Dot, Amazon Tap, or Fire TV.