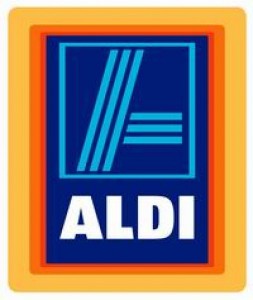 Aldi deals vary regionally. The list below reflects my local ad in Columbus, Ohio.

Read more about Aldi's policies to make the most of these deals!
:: Browse by Category
Grocery
Bakery/Deli
Produce
Meat/Seafood
Refrigerated
Frozen
Household Cleaning
Miscellaneous
:: Grocery
Clancy's Kettle Style Potato Chips (9 oz.), $1.99
Sweet Harvest Mandarin Oranges (11 oz.), $0.49
Sweet Harvest Applesauce (25 oz.), $0.99
Benton's Home Style Cookies (16 oz.), $1.99
Baker's Treat Crisp Rice Treats (6.2 oz.), $1.79
Millville Bran Flakes Cereal (17.3 oz.), $1.59
:: Bakery/Deli
Deli Premium Sliced Deli Meats (8 oz.), $2.89
Deli Premium Hard or Genoa Salami (8 oz.), $2.69
L'oven Fresh Wide Pan 12 Grain Bread (24 oz.), $1.69
L'oven Fresh Cinnamon Rolls with Icing (22 oz.), $2.99
:: Produce
Celery, $0.69/pk.
Baby Carrots (16 oz.), $0.99
Green Grapes (2 lb. pack), $1.48
Red Grapes (2 lb. pack), $1.48
:: Meat/Seafood
Parkview Beef Hotdogs (16 oz.), $1.99
Appleton Farms Sugar Cured Sliced Bacon (16 oz.), $2.89
:: Refrigerated
Happy Farms Shredded Cheese (12 oz.), $2.49
Happy Farms Deluxe American Cheese Slices (16 oz.), $3.29
edenVale Havarti Cheese (8 oz.), $2.99
edenVale Shredded Cheese (5 oz.), $1.99
:: Frozen
Kirkwood Chicken Drumsticks (2.5 lb.), $2.39
Sea Queen Imitation Crab or Lobster Meat (12 oz.), $2.29
Sea Queen Large Cooked Shrimp (12 oz.), $4.49
Sea Queen Alaskan Salmon Burgers (11.2 0z.), $3.99
Cooper's Corn Dogs (16 oz.), $1.89
Mama's Cozzi's Pizza Kitchen Rising Crust Pizza (28.2-32.7 oz.), $3.69
Bremer Chicken Pot Pies Four Pack (40 oz.), $5.99
Kirkwood Chicken Fries (24 oz.), $3.99
Kirkwood Crispy Chicken (28 oz.), $4.99
Kirkwood Chicken Breast Nuggets (32 oz.), $3.99
Kirkwood Safari Adventure Chicken Nuggets (32 oz.), $3.99
Kirkwood Chicken Cordon Bleu, Kiev or Brocolli & Cheese (6 oz.), $0.99
Bremer Parmigiana Chicken or Veal (28 oz.), $2.69
Breakfast Best Pancakes or French Toast with Sausage (5.5-6 oz.), $1.19
Breakfast Best Biscuit or Breakfast Sandwiches Four Pack (18 oz.), $2.99
Sundae Shoppe Ice Cream (64 oz.), $1.99
:: Household & Cleaning
Tandil Essentials 2X Ultra Liquid Laundry Detergent (50 oz.), $2.29
Tandil Ultra Premium Liquid Laundry Detergent (100 oz.), $6.99
Satin Soft Ultra Liquid Fabric Softener (51 oz.), $2.99
Willow Double Roll Bath Tissue (12 pk.), $4.69
Boulder Ultra Paper Towels (8 pk.), $5.99
Boulder Ultra You Choose Paper Towels (2 pk.), $2.49
Boulder Party Cups (50 pk.), $2.29
:: Miscellaneous
Phaser Premium Alkaline Batteries (8 pk.), $1.99