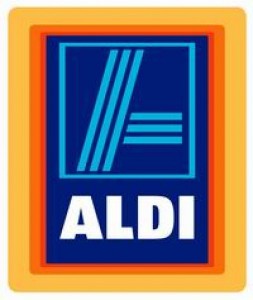 Aldi deals vary regionally. The list below reflects my local ad in Columbus, Ohio.

Read more about Aldi's policies to make the most of these deals!
:: Browse by Category
Grocery
Produce
Meat/Seafood
Frozen
Miscellaneous
:: Grocery
Mr. Pudding Chocolate or Vanilla Cups, $0.89
Brookdale Chili with Beans (15 oz.), $0.99
Choceur Chocolate Bar, $1.29
Campbridge Graham Crackers (14.4 oz.), $1.39
Baker's Corner Regular Marshmallows (16 oz.), $1.39
Grandessa Signature Gourmet Pasta Sauces (24 oz.), $1.79
Clancy's Cheese Spread (2 lb.), $3.29
:: Produce
Bananas, $0.39/lb.
Grape Tomatoes, $0.59
Sweet Onions, $0.99/pk.
Pineapple, $1.59
:: Meat/Seafood
B-Bar Beef Hot Dogs (16 oz.), $1.99
Lunchmate or Fit & Active Tub Lunchmeat (7-9 oz.), $2.49
Kirkwood Chicken Breasts (48 oz.), $5.49
:: Frozen
Mama Cozzi Pizza Snacks (20 oz.), $2.49
Sundae Shoppe Junior Pops (24 ct.), $1.99
Sundae Shoppe Fudge Bars (12 ct.), $1.99
Sundae Shoppe Ice Cream Bars (12 ct.), $1.99
Sundae Shoppe Ice Cream Sandwiches (12 ct.), $.200
Sunday Shoppe Sundae Nut Cones (6  ct.), $1.99
:: Miscellaneous
Range Master Marshmallow and Hot Dog Forks (2 pk.), $5.49
10″ Hanging Basket of Assorted Annuals, $5.99
Available Wednesday, 5/12
Adventuridge Foldable Chair, $7.99
Adventuridge Hiking SHoes, $14.99
Zebco Spincast Combo, $14.99
Adventuridge Aluminum Folding Table, $19.99
Range Master Propane Camping Grill, $19.99
Adventuridge AM/FM Radio/Lantern, $19.99
Adventuridge Director's Chair, $24.99
Adventuridge 3-Person Dome, $24.99
Intex Pillow Rest  Queen Air Bed, $39.99
Oregon Scientific Portable Weather Radio, $24.99
KingCraft 2,000-Watt Camping Generator, $149.99