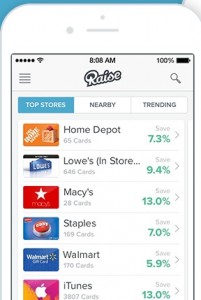 Raise.com is an online site that allows you to buy gift cards at a discount and sell unwanted gift cards too. Open a new Raise.com account and enjoy a FREE $5 credit to your account. PLUS right now you can use coupon code MOVIE10 to get $10 off of your $25 purchase!  Combine these offers and you're savin $15 off of whatever gift cards you choose, as long as your checkout total is $15 or more!  Maybe you'll score a $25 Fandango Gift Card for $7.25!
Here's how to get started:
Go here to create a new account with Raise.com. Make sure that your referral code says: dseeking
During the registration, Raise will ask for your mobile phone number — this is just to confirm your account via a code that will be sent in a mobile text message. Your FREE $5 credit will be applied to your account instantly upon confirmation!
You can now ask to be notified when a favorite stores get listed at a discount (like Pier 1 Imports, Panera, Macy's and more!)
Be sure to use promo code MOVIE10 during checkout to save an extra $10 off your order over $25.
Have you tried buying or selling a gift card on Raise yet?

Thanks, She Saved!