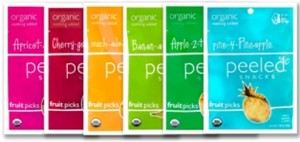 I took advantage of this Peeled organic snacks deal back when they offered it in January — get $40 of Peeled organic snacks for $20, plus FREE shipping when you redeem before 5/3!
UPDATE: I'm sorry — I was unaware that Gaggle paused the $10 new member credit offer about three weeks ago.
These are a great alternative to the fruit snacks that my kids are always clamoring for — my favorite is the Much-ado-about-Mango snacks.
Highlights of this offer:
50% off all-natural fruit snacks
Perfect for mom and kids on the go
Various gift packs available
As featured in Starbucks
Only 5 per customer
Coupon valid for one year
FREE SHIPPING if you buy before Midnight EST on May 3rd
This offer is available through 12:30pm EST on Monday 5/2 or while supplies last.