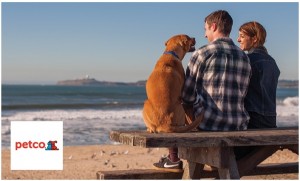 What a great deal – for friends, family – or for yourself!   Hurry on over to Groupon where you can score a $30 Petco Voucher for $20.  Plus you can enjoy $20 Cash Back on your Groupon purchase when you shop through TopCashBack -effectively making your Groupon voucher FREE!  This offer is valid for new TopCashBack members only, so if you've already make a purchase be sure to refer a friend for this one.
Here's how to get your FREE Petco eGift Card:
After you register or if you're already a member, click "Get Cashback Now" to proceed to Groupon.
Click the green "Buy" to complete your order!
IMPORTANT: transactions must only contain one '$20 for $30 value at Petco.com' deal, costing $20 at the checkout to ensure $20 cashback is credited to TopCashback accounts. If another deal is purchased or additional deals are purchased at the same time, the cashback amount awarded will be either 10% or 5% (depending on whether you are a new or existing Groupon customer) instead of $20. This promotion is subject to availability. Groupon may close the deal at any time. This TopCashback $30 Petco.com credit offer is available until 23:59 PT on Friday, August 14, 2015 or it closes; while it's priced at $20; if the final price changes, the deal is over; to new TopCashback members only. This is defined as someone who hasn't ever made a transaction through TopCashback.com, regardless of whether they have already created a TopCashback account or not. If an existing member is found to have created more than one account, TopCashback will terminate their accounts and withhold all cashback earnings to new, current or past Groupon customers; for online sales only, for purchases made directly after clicking through TopCashback.com. Only one $20 for $30 value at Petco.com deal is allowed per TopCashback account, and only one TopCashback account is permitted per member.