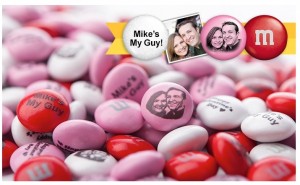 Here's a fantastic Groupon deal today that you'll want to take advantage of. You can score a $30 Personalized M&Ms voucher for just $15 – or you can choose a $50 Personalized M&Ms voucher for $25!  Needless to say you could snag a really fun Valentine's Day gift with this.
Here's how to get this deal:
Expires Mar 19th, 2015. Limit 1 per person, may buy 1 additional as a gift. Limit 1 per order. Online only; not valid for in-store purchase. Shipping not included, but may use Groupon value toward shipping. Vouchers not valid with mymms.com (M&M'S) after voucher expiration date. Groupon will refund amount paid in Groupon credit for unredeemed vouchers. Ships only within continental US. Merchant is solely responsible to purchasers for the care and quality of the advertised goods and services.