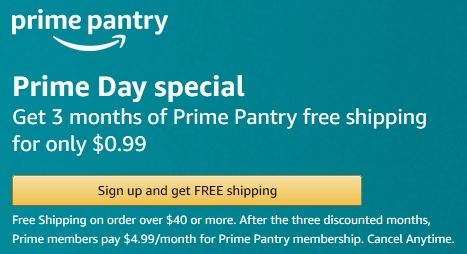 Amazon Prime Day is full of great deals, including a Prime Pantry Prime Day Special!  You can enjoy THREE Months of Prime Pantry FREE Shipping for $0.99!
Get UNLIMITED shipping included on every Prime Pantry order $40 or more.
For a limited time, customers can sign up for 3 months of Prime Pantry for $0.99. After the 3 month period, Prime Pantry costs $4.99/month.
Alternatively, Prime customers can opt out of the membership and pay a flat $7.99 shipping fee per order.
Also in celebration of Prime Day, you can save $10 on Prime Pantry orders of $40 or more on regular everyday-size pantry items with a FREE 30-day trial membership if you're not sure you want to sign up with the $0.99 offer. Just use promo code 'PANTRY' at checkout to score this $10 discount.  Note that this offer is valid for new subscribers only.