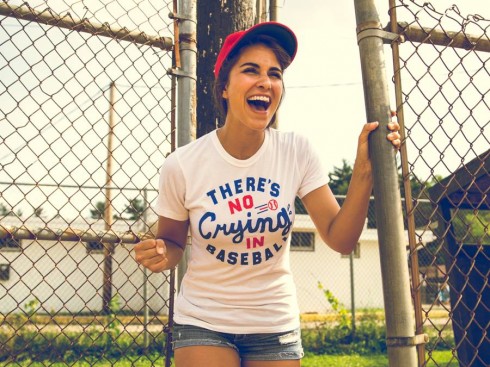 "Are you crying?! There's no crying in BASEBALL!"
I've seriously been waiting for Homage to release this shirt FOREVER! I was so excited to see on Facebook last night that it would be available today — and priced at just $19.92 to celebrate the 22-year anniversary of A League of Their Own. (Wow, has it really been that long?) I picked them up for the whole family, minus my two youngest since they don't offer it in youth sizes right now.
But it gets better — after I made my purchase, Homage gave me a link to share with friends and family to save an additional 25% off through July 8th, so my loss is your gain. Enjoy the savings!
For those of you not familiar with Homage, they're based right here in Columbus, Ohio. So you'll find a lot of local college and pro teams on their site, but they also have awesome gems like this "There's no crying in baseball" tee and some great World Cup gear! All of their tees and sweatshirts have that great worn-in, super soft, vintagey feel to them, and they're absolutely my fave.
We're totally an Homage family. I'd say we own no less than 30 of their awesome t-shirts and sweatshirts!